Amplify Your Brand's Reach and Dominate the Digital Landscape with SMM.NYC: NYC's Premier Social Media Marketing Agency
In the bustling concrete jungle of New York City, where businesses vie for attention amidst the constant buzz of the digital age, one agency stands out as the unrivaled champion of social media marketing: SMM.NYC. With our unwavering commitment to excellence and a comprehensive suite of services, SMM.NYC is the go-to destination for businesses seeking to maximize their digital presence, engage with their target audience, and drive unprecedented growth.
Dominate the Digital Landscape
From content creation to influencer marketing, paid ads to campaign management, SMM.NYC is your ultimate partner in navigating the ever-evolving social media landscape.
Unleash the Power of Social Media
Social media has transformed the way businesses connect with their audience, and SMM.NYC is at the forefront of this revolution. Our expert team possesses an in-depth understanding of the intricacies of various platforms, including TikTok, Facebook, Instagram, YouTube, and more. With SMM.NYC as your guide, you can harness the immense potential of these platforms to elevate your brand's visibility, expand your reach, and cultivate a loyal community of customers.
Tailored Social Media Strategies for Your Success
At SMM.NYC, we believe that every brand has a unique story to tell. That's why we tailor our strategies to suit your specific goals and target audience. Our seasoned professionals work closely with you to develop a comprehensive social media marketing plan that aligns with your brand identity and resonates with your customers. Whether you're a small local business or a multinational corporation, SMM.NYC has the expertise and resources to drive results that exceed your expectations.
Content Creation that Captivates
In the crowded digital landscape, compelling content is the key to capturing your audience's attention and igniting their interest. SMM.NYC boasts a team of creative wizards who excel at crafting captivating content that tells your brand's story in an authentic and engaging way. From eye-catching visuals to compelling copy, we create content that sparks conversations, encourages shares, and fosters a strong emotional connection between your brand and your audience.
Paid Ads that Skyrocket Your ROI
When it comes to paid advertising, precision targeting and optimization are paramount. SMM.NYC leverages its extensive knowledge of social media platforms to design highly targeted ad campaigns that deliver measurable results. Whether you're looking to drive website traffic, generate leads, or boost sales, our data-driven approach ensures that your ad spend is optimized to maximize your return on investment. With SMM.NYC, you can rest assured that your advertising dollars are being put to their best use.
Influencer Marketing that Amplifies Your Brand
The power of influencer marketing cannot be understated. SMM.NYC harnesses the influence of social media influencers to elevate your brand's reach and credibility. We meticulously identify influencers who align with your brand values and possess the right audience demographic, ensuring that every collaboration yields tangible results. By partnering with influential figures in your industry, SMM.NYC amplifies your brand's message and facilitates genuine connections with your target audience.
Campaign Creation and Management with Expert Precision
Crafting a successful social media campaign requires a delicate balance of creativity, strategic thinking, and meticulous management. SMM.NYC has a proven track record of developing and executing high-impact campaigns that resonate with audiences and drive conversions. From campaign ideation to execution and optimization, we handle every aspect with expert precision, leaving you free to focus on what you do best—running your business.
Choose SMM.NYC as your trusted partner, and you'll benefit from a team of industry experts who stay ahead of the curve, constantly monitoring the latest trends and best practices in social media marketing. Our commitment to innovation ensures that your brand remains at the forefront of the ever-evolving social media landscape.
But don't just take our word for it—our portfolio speaks for itself. Over the years, we have collaborated with a diverse range of clients, from startups to renowned global brands, helping them achieve remarkable results and measurable growth. We take pride in our clients' success stories and are ready to embark on a transformative journey with your brand.
When you choose to work with the best social media marketing agency in NYC, SMM.NYC, you gain access to a wealth of benefits. Not only do we save you time and resources by managing your social media marketing efforts, but we also provide valuable insights and analytics to track the effectiveness of your campaigns. Our data-driven approach allows us to make informed decisions, optimize strategies, and drive continuous improvement.
Furthermore, our client-centric approach ensures that we understand your unique business goals, target audience, and brand identity. We become an extension of your team, working collaboratively to develop a cohesive social media marketing strategy that resonates with your audience and cultivates brand loyalty.
At SMM.NYC, we believe in transparency and open communication. We keep you informed every step of the way, providing regular updates, performance reports, and actionable insights. Our team is always available to address your questions, concerns, and suggestions, fostering a true partnership built on trust and mutual success.
Now is the time to harness the power of social media and propel your brand to new heights. Choose SMM.NYC as your social media marketing agency, and together, we will unlock the full potential of your brand in the digital landscape. Contact our NYC Social Media Agency to schedule a consultation and discover how our expertise and innovative strategies can help your business thrive in the dynamic world of social media marketing. Let us be your trusted guide on the journey to establishing brand awareness, driving growth, and dominating the social media sphere.
Amplify Your Brand's Reach and Dominate the Digital Landscape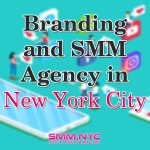 In the fast-paced digital landscape, the importance of a robust social media marketing strategy cannot be overstated. SMM.NYC is the leading social media marketing agency in New York City, dedicated to helping businesses like yours gain a competitive edge and thrive in the digital realm. With our comprehensive range of social media services, including content creation, paid ads, NYC influencer marketing, and campaign creation and management, we provide the expertise and resources necessary to elevate your brand's online presence! If you found value in this post on Amplify Your Brand's Reach and Dominate the Digital Landscape and would like to setup a call to discuss your social media needs, we invite you to email us, or call us now!