SMM.NYC: Top NYC Social Media Marketing Agency! In the heart of the bustling metropolis that never sleeps, one agency stands out as the beacon of innovation, creativity, and success in the realm of social media marketing. Welcome to SMM.NYC, where we redefine the art of social media marketing, one campaign at a time.
In a city where competition is fierce and the digital landscape is ever-evolving, your brand deserves nothing less than the best. Our mission at SMM.NYC is crystal clear: to catapult your brand into the spotlight, harness the power of social media, and drive unparalleled success for your business.
Top NYC Social Media Marketing Agency
Why do business owners, brands, and other influencers partner with SMM.NYC for all of their local social media needs in New York City? Answer: we are the undisputed champions of social media marketing in New York City, and here's why you should connect with us now:
1. Unparalleled Expertise: With a team of seasoned professionals who eat, sleep, and breathe social media, SMM.NYC boasts unparalleled expertise in the world of digital marketing. We are constantly learning, adapting, and staying ahead of the trends to ensure that your brand remains at the forefront of the social media landscape.
2. Tailored Strategies: We understand that one size does not fit all. Our team takes the time to get to know your brand, its unique personality, and your goals. With this in-depth understanding, we craft tailored strategies that are designed to resonate with your target audience and make your brand truly stand out.
3. Creative Excellence: Creativity is the cornerstone of our success. We believe that every brand has a unique story to tell, and we're here to help you tell it in the most captivating and compelling way possible. From eye-catching visuals to engaging content, our creative team knows how to captivate and inspire.
4. Measurable Results: At SMM.NYC, we don't just talk the talk; we walk the walk. Our campaigns are designed with one thing in mind—delivering measurable results. We use advanced analytics and data-driven insights to track the success of our strategies, ensuring that your investment yields a tangible return.
5. Unmatched Client Success: Our portfolio speaks volumes. We've had the privilege of working with a diverse range of clients, from startups to large companies, and we've consistently helped them achieve their social media marketing goals. Our track record of success is a testament to our commitment to excellence delivered through our social media services.
6. Cutting-Edge Technology: We leverage the latest and greatest in social media marketing technology to keep your brand ahead of the curve. Whether it's harnessing the power of AI for campaign optimization or staying on top of algorithm updates, we're always at the forefront of technological innovation.
7. NYC-Centric Knowledge: We're proud to call New York City our home, and we know this city like the back of our hand. Our local expertise gives us a unique advantage in understanding the nuances of the NYC market and tailoring strategies that resonate with its diverse and discerning audience.
Harnessing the Power of a Social Media Marketing Agency: Your Path to Business Success!
In the digital age, where connectivity knows no bounds, social media marketing has emerged as an indispensable tool for businesses aiming to achieve success and stay relevant. It's not merely a trend; it's a dynamic force that can shape the destiny of your business. Here's why social media marketing is the cornerstone of business success in today's world:
1. Unparalleled Reach: Social media platforms like Facebook, Instagram, Twitter, and LinkedIn boast billions of users worldwide. This vast and diverse audience is a goldmine for businesses looking to connect with potential customers. Social media enables you to reach people across the globe, regardless of geographical boundaries.
2. Targeted Advertising: Social media platforms provide robust advertising tools that allow businesses to precisely target their ideal audience based on demographics, interests, and behavior. This level of specificity ensures that your marketing efforts are seen by the people most likely to convert into customers.
3. Building Brand Awareness: Consistent and strategic social media presence helps create brand recognition and awareness. Engaging content and regular interaction with your audience can make your brand a household name, leading to increased trust and customer loyalty. We also work with the top NYC Influencers!
4. Two-Way Communication: Unlike traditional advertising channels, social media allows for real-time, two-way communication with your audience. This means you can actively engage with your customers, respond to their queries, and build meaningful relationships. It fosters a sense of community and trust that can be invaluable for your brand.
5. Cost-Effective Marketing: Social media marketing is often more cost-effective than traditional advertising methods. You can allocate your budget more efficiently, measure the performance of your campaigns, and make adjustments in real time to maximize your ROI.
6. Data-Driven Insights: Social media platforms provide valuable data and analytics that can help you understand your audience better. You can track user engagement, conversion rates, and other key metrics, allowing you to refine your strategies and make informed decisions.
7. Viral Potential: The power of social media lies in its potential for content to go viral. A single well-timed post can reach millions of people within hours, catapulting your brand into the limelight and generating massive buzz.
8. Competitive Advantage: In today's competitive landscape, having a strong social media presence is no longer optional—it's a necessity. Businesses that embrace social media marketing gain a competitive edge by staying connected and relevant in the digital era.
9. Global Marketplace: Social media breaks down the barriers of traditional commerce, enabling businesses of all sizes to participate in the global marketplace. With the right strategy, even small businesses can compete on a global scale.
10. Adaptability: Social media is a dynamic field that evolves constantly. Businesses that adapt to new trends and technologies can stay ahead of the curve and remain relevant to their audience.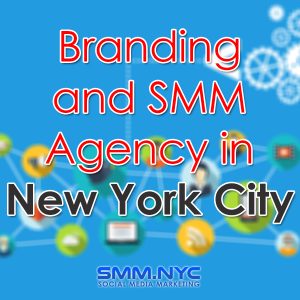 NYC social media marketing is not just a tool; it's a catalyst for business success. It has the power to amplify your brand's reach, engage with your audience on a personal level, and drive growth in ways that were once unimaginable. To thrive in today's digital landscape, harnessing the power of social media marketing is not an option; it's a strategic imperative. Embrace it, and watch your business soar to new heights of success.
When searching for an NYC SMM Company, there's only one name you need to know: SMM.NYC. We're not just an agency; we're your partners in success. Let us be the driving force behind your brand's journey to social media stardom.
Don't wait another moment to unlock your brand's true potential. Connect with us now, and let's embark on a journey to social media marketing success that will transform your brand's future. Your audience is waiting—let's make them your loyal fans and advocates today!